ORGANIZATIONAL STRUCTURE
Administration Division
The Administration Division is responsible for the following functions within the New Westminster Police Department:
| | |
| --- | --- |
| Recruiting | School Liaison Officer Program |
| Media Liaison Section | Crime Prevention Unit |
| Human Resources | Training Section |
| Community Services Section | Victim Assistance Unit |
| Reserve Constable Program | Emergency Social Services |
| Police Volunteer Program | Emergency Planning |
Criminal Intelligence Unit
The Criminal Intelligence Unit is responsible for collecting, analyzing and interpreting a variety of investigative and intelligence data to support investigative activities as well as assisting police management in the prevention of crime and efficient deployment of resources to address current patterns of criminal activity. The unit comprises of a partnership between a police detective and a civilian crime analyst. This unit is the central conduit for information distribution throughout the police department. The Criminal Intelligence Unit also distributes relevant information to and from other justice agency partners.
Collision Analysis and Reconstruction Team
The New Westminster Police Collision Analysis and Reconstruction Team (CART) is comprised of a Staff Sergeant and several Constables whose primary function is to attend and examine collision scenes involving serious injury or death, extensive property damage or unusual circumstances. The CART team members utilize the latest technology and training to locate, document, interpret and map roadway evidence, examine vehicles and pedestrians and submit comprehensive Technical Assistance Reports.
Domestic Violence Unit
The Domestic Violence Unit is a partnership program between Family Services of Greater Vancouver and the New Westminster Police Department. The team is made up of a counselor and a Major Crime Detective to provide rapid follow-up on the most severe, high-risk and chronic situations of domestic violence reported to police.
Forensic Identification Services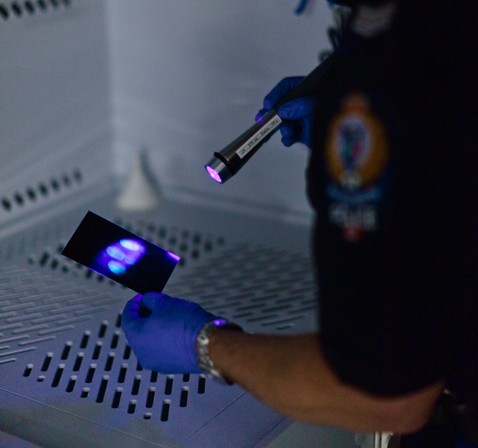 The Forensic Identification Section provides support services to investigators. The section's role is to examine crime scenes and associated exhibits, locate, document and develop relevant evidence, and provide impartial reports and opinions to investigators as well as the Courts. Members develop knowledge and expertise relating to development of fingerprints and fingerprint evidence, footwear comparison, collection of DNA, forensic video applications, blood stain evidence, photography and many other areas. Identification members assist investigators in crimes such as assaults, robberies, and homicides.
Integrated Units
The New Westminster Police Department is committed to providing the best service possible to the citizens of New Westminster. Through the integration of specialized police services the New Westminster Police Department is able to provide resources to these integrated units to ensure that we are better able to deal with cross-jurisdictional crimes. The New Westminster Police Department currently has 14 Members seconded to various investigative and operational integrated units throughout the Lower Mainland. These secondment opportunities are with the following units:
| | |
| --- | --- |
| Combined Forces Special Enforcement Unit (CFSEU) | Provincial Hate Crime Unit |
| Integrated Gang Task Force (IGTF) | Justice Institute of BC (JIBC) |
| Integrated Homicide Investigation Team (IHIT) | Lower Mainland Traffic Safety Helicopter Program |
| Integrated Municipal Provincial Auto Crime Team (IMPACT) | Provincial Intelligence Centre (PIC) |
| Integrated Road Safety Unit (IRSU) |   |
Lower Mainland Emergency Response Team
In January 2013, the New Westminster Police became the first Municipal Police Department to sign on with the RCMP LMD Emergency Response Team. In response to rising violent crime in 2006, the Lower Mainland District Regional Police Service phased in a full-time 67-member ERT team to support front-line police officers in the LMD's 13 detachments.
Although the members are part of a full-time team, they are based out of different detachments where they participate in briefings, liaise with local units to provide tactical advice and patrol the detachment area as available. This ensures each municipality not only benefits through access to the emergency response capabilities, but also has access to the expertise of each member on an ongoing basis, and the team has a visible presence in each municipality.
The NWPD currently has two full time members seconded to the LMD ERT.
Major Crime Unit
The Major Crime Unit is responsible for the primary or supplemental investigation of serious criminal offences such as robbery, serious person's offences (assaults causing injury, sexual assaults etc), complex fraud investigations, suspicious deaths etc. The Major Crime Unit is also responsible for providing investigative assistance to other sections within the Service as well as being the primary liaison with the Integrated Homicide Investigation Team.
Operational Support Unit
The Operational Support Unit (OSU) is comprised of a Sergeant and four Constables whose primary function is to provide operational support to the Patrol Division by way of high visibility patrols on police mountain bike, foot, and vehicle. The Operational Support Unit applies consistent uniform enforcement of the criminal code, provincial statutes, and municipal bylaws relating to specific areas of concern such as the downtown core, parks, and public transit. In addition, the Operational Support Unit monitors known offenders to ensure compliance of court orders and actively seeks out suspects wanted on outstanding warrants.
Patrol Division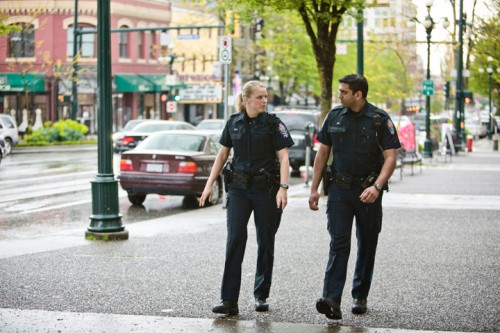 The Patrol Division is the largest and most visible unit of the department.  Patrol Officers respond to calls for assistance, maintain public order, detect and prevent criminal activity, conduct the initial investigation of reported crimes and engage in proactive policing duties 24 hours a day, every day.
Their commitment and professionalism provide a balanced approach to both criminal and social issues. They represent law and order and safeguard the lives and property of the people they serve.
Police Service Dogs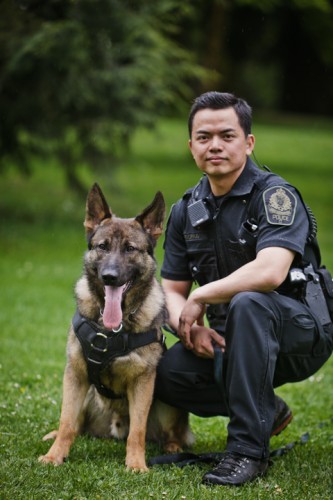 In 2003, the New Westminster Police Department canine section and the Delta Police Department canine section joined forces to form the Integrated Canine Service (ICS).
ICS provides police dog services to both cities by attending various calls for service and calls that involve tracking suspects, criminal apprehension, area/building searches, evidence searches and narcotic/firearm detection.
Presently there are seven dog teams, one of which is the Sergeant.
Each dog team undergoes extensive training. During this period the dogs, along with their handlers, are taught tracking, property/ evidence searches, area searches, building searches, handler protection, criminal apprehension, obedience and agility. Once validated and working with patrol, dog teams are continually training for the betterment of the dog teams' abilities and further development of the dog/handler expertise.
Street Crime Unit
The Street Crime Unit is a unit in the Support Services Division. The primary function is to proactively identify and respond to crime trends with a focus on property crime including Break and Enters, conduct drug investigations, and support the Major Crime Unit. The Street Crime Unit fulfills its mandate through plainclothes, undercover, and surveillance operations, amongst other tactics.
Traffic Unit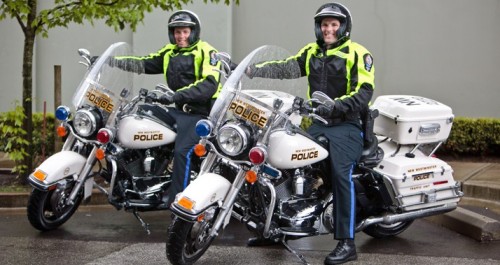 The NWPD Traffic Units primary purpose is to reduce accidents, save lives, and facilitate the safe and efficient movement of vehicular and pedestrian traffic throughout the City.
The Traffic Unit conducts traffic enforcement operations targeted at specific problem locations as well as public information campaigns related to traffic safety. Traffic officers are deployed to those areas of the city where traffic violations are problematic. In many cases, deployment is based directly on citizen complaints of traffic violations in particular neighborhoods.
The Traffic Unit utilizes patrol cars, Harley Davidson motorcycles, foot patrol and even the use of police bicycles to ensure the safe passage of vehicles and pedestrians throughout the City.

 Print This Page