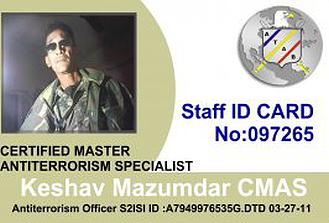 ADMN KESHAV MAZUMDAR (Full profile):http://securityantiterrorismtraining.org/Keshav%20Mazumdar.html
Keshav Mazumdar DipCriminology,CPO,CRC,ASC,CMAS,ATO is engaged in intelligence/security activities and research and engaged at present in anti-terrorism research involving social network analysis, and exposure to intelligence-led policing, terrorist profiling,terrorist threat assessments military intelligence, counterintelligence and other related security fields. He has his Antiterrorism Officer (ATO) credential from Institute of Safety & Intelligence, USA.He is at present the Sr Vice President ATAB,USA, Advisor (RIEAS) , Greece and also of European Intelligence Academy (EIA).He has been nominated to the Board of Geo Strategic Forecasting Corporation , USA.
He holds a Diploma in Criminology from Stonebridge Associated College UK and in Criminal Profiling(INDIA).Associate Degre in Military Science . He is certified as a Master Anti Terrorismm Specialist by ATAB , Anti Sabotage Certified (ASC) by the College of Forensics Examiners International (ACFEI-USA),Certified Protection Officer by IFPO-USA and is a Certified Crisis Response Coordinator (CRC).In July 2012 he has been inducted as Fellow of New West minister College , British Columbia,Canada.He is a member in good standing of several professional Security organizations/Associations including the International Association of Counterterrorism and Security Professionals , Association of Certified Fraud Examiners, International Association of Bomb Technicians & Investigators, IAHN & the International Counter Terrorism Officers Association. He is a registered member of the Int Association for the Study of Organized Crime. His has completed several NATO/Partnership for Peace courses, UNITAR Courses, and is specialized in threat and vulnerability analysis/assessment. He is a certified Human Resource Professional thus enabling him to effectively manage peoples and assignments. He has authored books on Intelligence, COIN, Warning Intelligence, Terrorist Interrogation and Antiterrorism.He has prepared training powerpoints for ATAB students in Anti Terrorism/HUMINT. He has written the draft copies of Indian Army Intelligence and CI Doctrines keeping the asymmetric nature of today's enemy in perspective.His expertise in unarmed combat is noteworthy--he is a regd. kungfu practitioner.
Along with Keith Flannigan Chair ATAB he is the administrator of two on line courses in Intelligence and Counterintelligence. This is an ATAB Endeavour to impart quality intelligence training to both Intelligence officers' as well as responders , a part of the course so designed so as to acquaint the latter with Terrorist indicators , pre-attack terrorist surveillance(dry runs),terrorist profiling and CARVER. The counterintelligence course also covers the TACHUMINT concept. The very important concept of I&W is dealt with thoroughly.
MEMBER OF:International Assn of Counterterrorism & Security Professionals IACSPINTERNATIONAL COUNTERTERRORISM OFFICERS ASSN ICTOAInternational Assn of Hostage Negotiators IAHNInternational Assn of Bomb TechniciansAnti Terrorism Accreditation Board ATABAssociation of Certified Fraud Examiners ACFEInternational Foundation of Protection Officers IFPOHONORS/AWARDS/CREDENTIALS:Anti terrorism Officer Credential ATO;Certified Master Anti-terrorism Specialist CMAS;Anti sabotage Certified ASC;Certified Protection Officer CPO;Crisis Response Coordinator CRC;Certified Human Resources Professional CHRP;Fellow of New Westminster College, British Columbia, Canada
He comes from a very respectable Indian family, his late father being a soldier and gentleman of highest integrity, war decorated Captain D.N.Mazumdar. He has strictly adhered to his father's principles. His mother and two sisters, both Professors have nurtured in him a high sense of respect for every living being, big or small, human or of the animal world. His belief in THE SUPREME is predicated by his feelings for mankind, for those in distress and poverty. But he is stoic enough to imbibe the true qualities of an antiterrorist, not flinching when meting out punishment to criminals/terrorists.The below mentioned course site is offered only to VERIFIED Security personel around the Globe.
---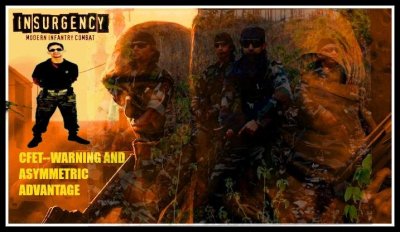 Intelligence/CI Course webpage
http://adminwarcollege.chatango.com/